Te bezoeken erfgoed, Kastelen, monumenten dans le Vaucluse
Toevoegen aan mijn lijst
Schrijf hier gratis uw toeristische punt in dans le Vaucluse in
Accommodatie in de buurt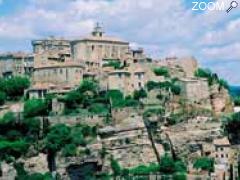 TVORG-1357
Bewerk de pagina
Disponibilités
Delmas L.
Le Bourg
84400 Rustrel (Vaucluse)
This village can boast about being amongst one of the most beautiful villages in France. It has narrow cobbled streets which thread their way through tall houses; built against the rock, clinging onto its flanks and whispering the tales of a thousand legends.
Gordes is also proud of its castle firmly planted in its very core and which reminds the passer-by of a past rich with conquests but also marked with the sufferings of its inhabitants. Today, the castle acts as both a Town Hall and a Museum sheltering the works of art of the painter Pol Mara.
Gordes also extends its territory to include the Bories village, those curious igloo-shaped structures made of stones - no mortar; the Sénanque Abbey set in its green valley, the Bouillons oil press and the cellars of St Firmin's s Palace.
As for the soul, Gordes has sheltered many a famous artist such as André Lhote, Marc Chagall, Jean Deyrolle, Victor Vasarely and Pol Mara, who amongst others have found here some inspiration.
Such a cultural tradition is kept alive to this day, during the summer time when many exhibits do take place in buildings marked by History, such as the St James almonry, the White Penitents chapel etc.
Gordes Municipality looks after its heritage with a rigorous love so that success does not spoil it.

Yes, indeed, Gordes is a highly recommended tourist destination, and thus because of its History, its exceptional geographical location, its high quality cultural activities as well as for its renowned hotels and restaurants.
Gordes must remain authenticable, maintain its Provençal traditions, and yet be open to a tourism, which knows to appreciate and respect.
Bekijk meer aanbiedingen ...
Schrijf hier gratis uw toeristische punt in dans le Vaucluse in