Gastronomy, Wine cellar, Distillery dans le Vaucluse
Cellars and Distillery

Pierce the secret of wines and of their development by visiting cellars and distillery. Leave on men's meeting loving their lands and their grapevines which will make you share their passion and their know-how.
Register your touristic spot dans le Vaucluse it's free (in French) Pierre SAYSSET
RN7 A7 Sortie 22 Orange sud
84100 Orange (Vaucluse)
Phone : 04 90 11 50 02
- Fax : 04 90 51 79 80
Created by 150 independent winegrowers and located in Provence, the Palais du Vin is the best place to discover by tasting, a wide range of wines from the Rhône Valley.
1300 m² and a competent ...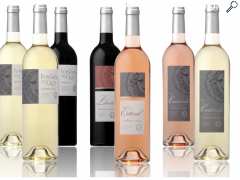 BARNIER Jean François
735 bld du comté d'orange
84260 Sarrians (Vaucluse)
Phone : 04 90 65 59 39
- Fax : 04 90 65 30 69
We organise visits «the fabulous story of the vine and wine» in our winery.
Our family has always lived in Sarrians, land of origin, so dear to our hearts.
In the heart of the Cotes du Rhone ...

Register your touristic spot dans le Vaucluse it's free (in French)