Heritage, visit, Natural spot dans le Vaucluse
Add to my travel notebook
Register your touristic spot dans le Vaucluse it's free (in French)
See accommodation nearby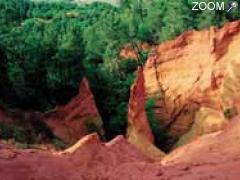 TVORG-1354
Update informations
Disponibilités
Delmas L.
Le Bourg
84400 Rustrel (Vaucluse)
Rustrel is a tiny village leaned at feet of Albion's tray(plateau) in the Regional Natural reserve of Luberon which widely deserves your bend for his surprising cliffs of ochre that one calls Provençal Colorado.
The exploitation of the begun ochre one century ago behind, allowed Rustrel to be an important centre of production and to participate in industrial revolution from these ferruginous ores. Today, after a long decline, the exploitation of the site touches its end, Provençal Colorado begins(affects) a second life by opening to the guests amazed with the palette of colours and forms offered on the site.
Among Rustrel and Gignac's hamlet, in border of the river Dôa, numerous pedestrian paths will lead(drive) you towards an incredible succession of cliffs of colours make rusty, of cliffs of gold and fireplaces of red fairies who appear majestically from the vegetation.
Register your touristic spot dans le Vaucluse it's free (in French)