Balade photo aérienne
Add to my travel notebook
Register your event in the Agenda, it's free (in French)
See accommodation nearby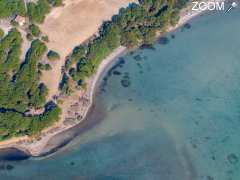 AVORG-833111
Update informations
from February 24 2019 to November 22 2020
Stéphanie Vigetta
83870 Signes (Var)
431 rue Marius Cornille

http://www.mwangavagabonde.fr

https://www.facebook.com/mwangavagabonde/
The coast, as you've never seen ...

After the 3 hours of photography class during which you imagined yourself in situation, here you are ... You must now go up in the air, to see the sea, seen from the sky! Your mount takes you directly to the coast! The green of the massif of Sainte-Baume and surroundings surprises you, but the one you want to see at any price, it is she, the Big Blue! The coast is taking shape quickly, the flamboyant colors of the coast contrast with the blues of the sky and the sea. The palette is infinite: azure, aquamarine, blueberry, cerulean celestial, cobalt, cyan, frosted, marine, pastel, sapphire , turquoise ... A sailboat here, a Posidonia meadow there, the harbor, the people, tiny, down! All you have to do is carry your camera to the visor of your helmet, to immortalize this magical moment, the sea from the sky!

The aerial photo tour to discover the coast will necessarily begin with a 3h photo course to explain how to adjust your camera, how to frame but also the tips and specificity of the aerial photo. The flights are usually early in the morning, the 3-hour photo course can take place the day before. Your flight will last 1h30! But no time to waste, every second is worth a look and makes you want to take a picture. During your flight the explanations on the territory of your pilot will delight you and help you to understand the landscape that you photograph. On the ground, your eco-guide professional photographer, Stephanie, can help you with a radio link, if you are lost in your settings. After your flight, and once you have recovered from your emotions, you will be entitled to a debriefing and a session "critical and photo treatment" of one hour on the spot!
Register your event in the Agenda, it's free (in French)